Forty years ago today, on July 31, 1979, I attended my first public hearing on cannabis at the Wisconsin Capitol in Madison. The meeting of the Assembly's Committee on Health and Social Services was held in the North Hearing room. There were two bills on the docket, a cannabis decriminalization bill, AB107, along with a medical cannabis bill, AB 279.
A couple years earlier, Andy Kane of Wisconsin NORML had put me in touch with Robert Randall, a fellow glaucoma patient and the first legal federal medical cannabis patient. In the summer of 1979, Andy told me Bob Randall would be coming to Madison to testify in support of AB 279. I made plans to travel from Milwaukee to the Capitol to attend.
After wining a federal lawsuit in 1976 that forced federal authorities to supply him with 300 pre-rolled federal marijuana cigarettes each month to treat his glaucoma, Randall worked tirelessly traveling the country lobbying state legislatures to pass Controlled Substances Therapeutic Research Program legislation (CSTRP).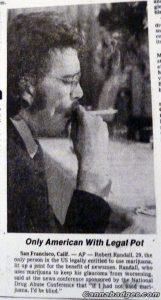 In April 1978, at the request of Randall and his lawyers, I was one of five glaucoma patients who submitted anonymous affidavits after Randall sued federal authorities after his federal medical pot was cut off. His case was so strong federal authorities settled and restored his federal cannabis supplies without going to trial. Copies of those affidavits and other documents from the case are part of the collection of his papers at the Wisconsin Historical Society.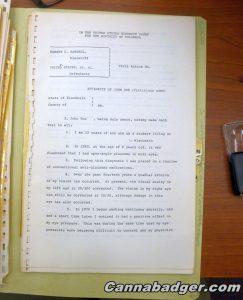 AB 279 was introduced in March of 1979 by Reps. David Clarenbach, James Lewis, Raymond Omernick, Thomas Loftus, Marcia Coggs, Barbara Ulichny and David Travis, by request to Wisconsin Association on Alcoholism and other Drug Abuse and National Organization for Reform of Marijuana Laws (Wisconsin affiliate).
I took a Badger Bus from Milwaukee to Madison to get to the Capitol for what would be the first time I set foot in a place I would some day frequent and reside within miles of.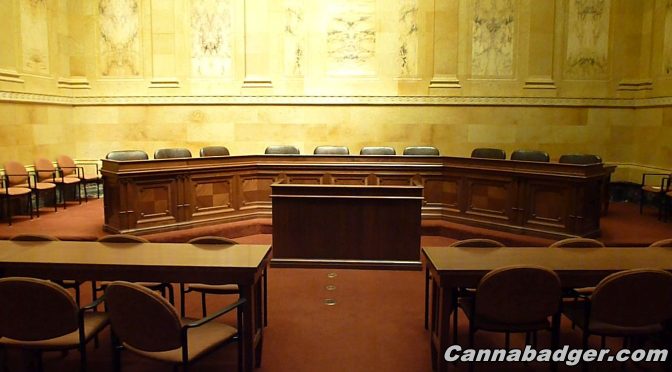 I remember walking through the Capitol halls to the North Hearing Room where the hearing was held. As I was not comfortable publicly testifying about my medical use of cannabis, my state assembly representative, Stephen Leopold (D-Milwaukee), agreed to testify on my behalf.
The Wisconsin State Journal quoted Rep. Leopold in their coverage of the hearing the next day: "State Rep. Stephen Leopold (D-Milwaukee) said he has a constituent who has glaucoma and obtains marijuana illegally for the condition. "Right now he has to break the law to receive adequate treatment," said Leopold, who added that his constituent was unwilling to testify in behalf of the bill for fear of prosecution."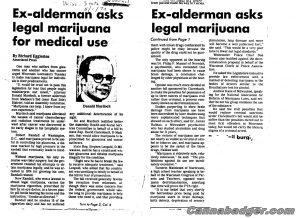 Robert Randall and Madison attorney, ex-alder and cancer chemotherapy patient Donald Murdoch also testified about their medicinal use.
The bill did not pass, but the Legislature took it up again the following session as LB 697. LB 697 passed the Assembly Feb. 23, 1982 by 77-19. On March 23, 1982 it passed the Senate by a vote of 32-1.
Then-Gov. Lee Sherman Dreyfus, a conservative Republican and one-time medical cannabis opponent who later became a supporter, signed the bill into law on April 15, 1982, and it took effect upon publication by the Secretary of State's office on April 20, 1982.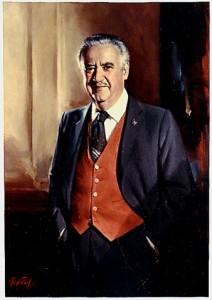 The law, the Therapeutic Cannabis Research Act (TCRA) remains part of Wisconsin statutes today, but the version of the bill passed in 1982 favored using prescription synthetic THC Marinol over cannabis flowers, as the feds supplied to Bob Randall. But, it did put the state of Wisconsin on record as being in favor of medical cannabis. In 2015, Louisiana used a similar law passed in 1978, and again in 1991 to create a medical cannabis program that is on the verge of supplying patients with medical cannabis today.
As a 24 year old glaucoma patient in 1979, I never would have thought Wisconsin would still not have legalized medical cannabis 40 years later, when glaucoma is just one of a number of maladies cannabis helps me to manage.
Meanwhile, Wisconsin patients await the bipartisan medical cannabis legislation being drafted by Rep. Mary Felzkowski (R-Irma), Sen. Patrick Testin (R-Stevens Point), Rep. Chris Taylor (D-Madison) and Sen. Jon Erpenbach (D-Middleton). Other lawmakers are also looking at legislation.
There are only so many ways to write a bill. Will the bipartisan-authored bill be patient-friendly and allow patients to use flowers and cultivate their medicine or will it feature restrictive language and expensive and difficult to access options? With Testin chairing the Senate Health committee, at least a public hearing is more likely than not. If so, I'll be there and ready to testify.